One year ago today, May 19, 2012,
I made my public performance debut.
The Vashon Island Farmer's Market was
my first official gig & it was paid!!

One year ago today was the first time
my songs were heard. One year is a
long time - yet it's not that long at all.
It is unreal all that I have crammed into
the last 365 days, and to think that I just
finished recording my debut album after
only a year of performing!

A year ago someone took a chance on me –
allowed me play music (for entertainment)
in front of many people, who had no idea
who I was.

Reminiscing about the way I felt then,
I wonder what on earth possessed me
to think I could play in front of people - songs
that I wrote - something very new to me.
How did I think there was any way I could
do this? What made me think I was good
enough to make people care about what
I was doing and saying? Today it seems easy,
but I wasn't where I am now a year ago,
so how did I have the courage to put myself
out there like that?

I had been leading music
at my church for two years at this point,
so I did have experience playing in front of
people, but not for entertainment purposes,
and not my own songs - totally different world.
I had been writing songs for a year now.
Shortly after I began writing, I made myself a
promise that I would play at the Strawberry
Festival the following year. The Strawberry
Festival is the big summer festival, in July,
on our island. It's a pretty big deal - lots of people
come from off island for the music we have here.

I finally felt "ready" - that I had enough songs
for a good setlist, and an urge to share them –
so I started pursuing playing live shows –
with Strawberry festival being top of the list.

My husband contacted the main music booker
here on the island in January 2012. He sent him
some sound clips of my songs and boldly asked
if I could play at "The Roasterie", a coffee
shop here on the island that has live music
sometimes. The booker took a long time to
reply. He was very reluctant – kind of put us
off (which I totally understand since he had
no knowledge of me). Didn't look hopeful.
Erik is very protective of my feelings, and is
so worried about rejection that he was very
hesitant to reach out any more.

In the end of January I played a small house
concert in my parent's home for a few friends
and family - just to see if I could do it.
This gave me enough confidence to be more
persistent. I decided to contact the booker
myself. After some waiting, (March) Mr. Booker
ended up giving me a few names of some
other contacts for events/venues to play
on the island - one of which was the contact
person for the farmer's market. I emailed all
of the people he gave me info for, and heard
back from the market promptly that they
wanted me to play soon. I had already
gotten together some covers I thought would
be good to play, and began working hard to make
sure I could play everything really well.

I wasn't really nervous about it. I was more
nervous about the unknown - and the sound
system - since I didn't have much knowledge
of equipment last year. I was very excited
though! I knew the island booker would
probably stop by to hear me. I had a feeling
that he wanted the market to test me out - see
if I was any good before he booked me for
anything else. :)

On the day of the market show it was
absolutely beautiful! We got there and set up –
not too difficult. We played under a tent in
case of rain, of course! You could tell I was a little
nervous during the first song, but then I was fine.
It was so much fun to play for a crowd! I never
had any idea what it would be this great!
There were a lot of people. Some camped out
on the grass to listen, some stopped briefly on
their way around the market. I received an
overwhelmingly great response from all who
passed by. Mr. Booker did show up and listen
for a little while, and he posted a picture on
Facebook commenting that I played a great set!
I was now on his radar for playing Strawberry
Festival, which was only 2 months away!


The Market 2012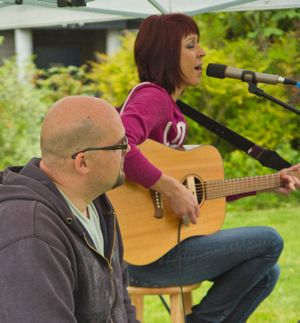 Last summer I played the market once more –
a month later, and then went on to play
Strawberry Festival, 2 others island festivals,
a couple house concerts, acquired a regular gig
at Nirvana (an island restaurant), as well as a
regular off-island gig, a church music & BBQ
event AND… "The Roasterie"!

This was a crucial part of my journey to
realizing who I was made to be.
I had written "Run Free" almost exactly
one month before the market performance.
Writing "Run Free" is what pushed me to
share my songs. I now had an overwhelming
sense of my purpose on this earth!